On this episode of the Kathryn for REAL! podcast, host Kathryn Gordon is joined by Heather Monahan.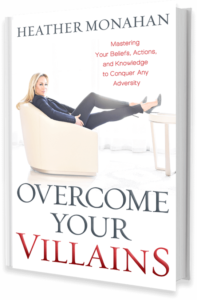 Get Heather's new book: Overcome Your Villains: Mastering Your Beliefs, Actions, and Knowledge to Conquer Any Adversity
About Heather:
With more than 1 million downloads of her new podcast, Heather Monahan is a top podcaster, acclaimed keynote speaker, entrepreneur, and founder of Boss in Heels LLC. Having successfully climbed the corporate ladder for nearly 20 years, Heather Monahan is one of the few women to break the glass ceiling and claim her spot in the C-suite. As a Chief Revenue Officer in the media industry, Heather Monahan is a Glass Ceiling Award winner, was named one of the Most Influential Women in Radio in 2017, and Thrive Global named her a Limit Breaking Female Founder in 2018.
Her show, Creating Confidence with Heather Monahan, inspired by her first book, Confidence Creator, debuted in May 2019 on PodcastOne, the largest podcasting company in the U.S. Guests include entrepreneur icon Gary Vaynerchuk, hedge fund manager and bestselling author James Altucher, Ryan Serhant—star of Million Dollar Listing NYC, and Sara Blakely, founder of Spanx. The show topped the charts 48 hours after launch, taking New and Noteworthy in the Business category on the Apple iTunes podcast charts. Hometown: Miami, FL